my blog
---
February 25th
How is it the end of February already!! Things have been busy and not helped by a week without heating and hot water (my studio was freezing). I am delighted to be working with the wonderful Green Pebble on marketing my notebooks and to the 3 new shops who are stocking my gift range.
I am doing a workshop in a couple of weeks with people who suffer from Parkinsons disease which I am looking forward to and am enjoying creating some new pieces together with getting orders out the door.
January 8th 2013!
Happy New Year! After a crazy busy November- December getting orders out of the door and stock into shops I had a fantastic Christmas and new year with family and friends and am ready to go, go, go
January 6th
I have done the art work for a wonderful Cambridge publication and exhibition- have a look:
http://www.shape-east.org.uk/projects/2013/Walking_With_Women_Exhibition.html
Sunday Dec 9th
Children's Christmas card making workshop at the Urban Larder
If you fancy a great coffee and cake and your kids fancy having a go at making collage Christmas cards using recycled materials, then come along at 9 on Sunday 9th to Urban Larder on Mill Road and have a go!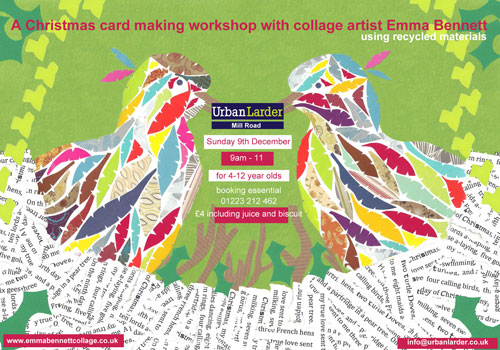 5th December 2012 - The Mill Road Winter Fair
A photo of a very cold me in a marquee at the Mill Road Winter Fair. Thousands of people came along for a fantastic day of celebrating how fab Mill Road is. Thank's to everyone who stopped by, all of the great comments and all the purchases!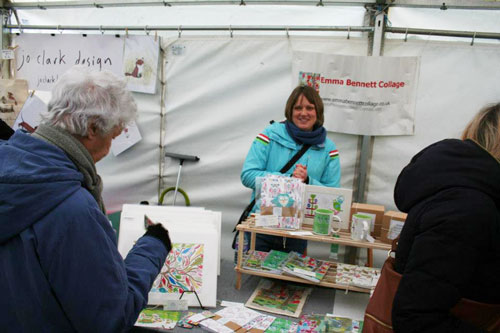 November
Which of the following 3 is the most scary!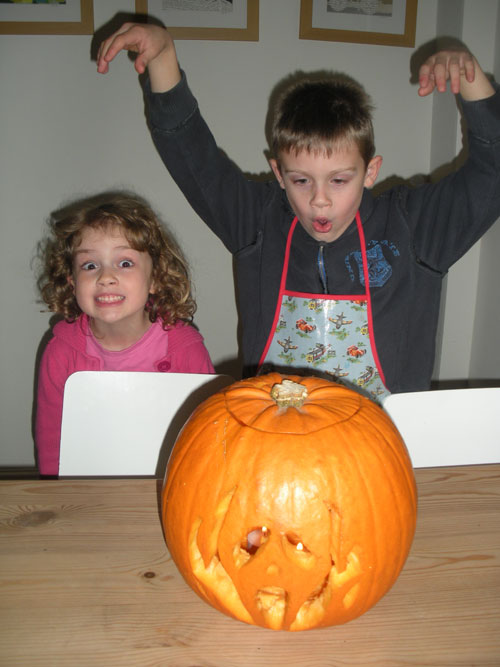 October
Fab day making apple collage decorations with children at Rock Rd library to celebrate apple day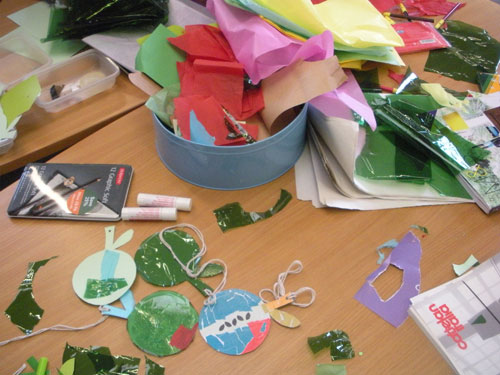 29nd September
Took the husband and kids to see my work on display at Haddenham Galleries. They seemed quite impressed but it was the fluffy cat there who got the most attention.
26th September
Wonderful day in London with amazingly fab artist Naomi Triggol, what a star and what a great day
7th September
Fantastic summer, now back to work, lots to do including illustrating a children's story book by talented writer Lynn Fraser (www.lynnfraser.com), great story, hope I can do justice with the illustrations!
Also busy preparing a huge delivery to Haddenham Galleries, 17 pictures, notebooks and bags -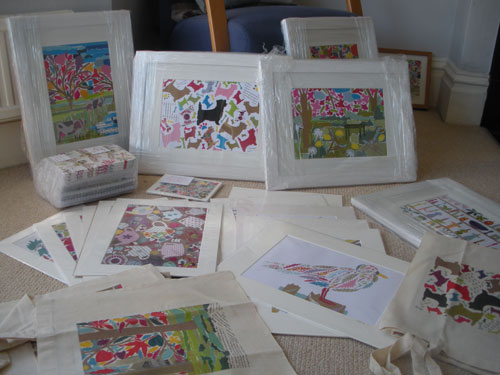 9th July
Lots going on at the moment- am teaching art at Ridgefiled and Morley schools this week, getting ready for an exhibition at Haddenham Galleries in September and delighted to have been accepted by Atelier East to exhibit a picture in their summer exhibition.
11th June
Updating my blog whilst the kids play at the Funky Fun House (or Funky Hell hole as it is known amongst us parents) - kids back at school tomorrow so work can resume. Have to get 25 pictures ready for Haddenham Galleries, so with only 5 1/2 weeks beforew summer holidays begin, I had better get working. Will take Wednesday off for my birthday though!
30th May
Have been asked to submit some images of my work for a feature in the 'International Lifestyle Magazine' - how lovely
May 17th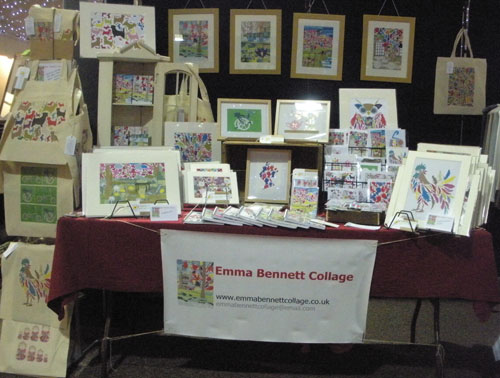 Had such a fantastic day at the Home and Garden Fair at Chilford Hall on Tuesday in aid of Asthma UK. It was very well organised and attended and thank you so much for all of the lovely people I met, comments I received and for all the sales!
May 10th
Busy, busy getting ready for the Home and Garden Fair at Chilford Hall next Tuesday (May 15th), has been a lot of work but am really looking forward to it.
March 16th
Delighted to say that I am very, very busy, can't ask for more than that when you work for yourself!

March 8th
Lovely set of my cambridge themed art work being printed as notecard sets at the moment, looking forward to getting them back. Also, bee notebooks coming soon
March 7th
Excited about teaching some collage workshops at St Pauls School in Cambridge as part of their art week
February 29th
Finished bee commission, lots of bee's and flowers, here's 3 of the bee's from a much larger and colourful picture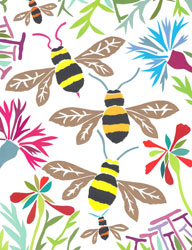 February 21st
Busy, busy, busy. Dogs and bee's those are the subjects for the next 2 week's worth of commissions
January 27th
Just got a big commission, yeah! Also really pleased with my new range of notebooks, they are lush
January 10th
Back to work and have enjoyed experimenting with some new collage approaches to make a picture of the River Cam (see home page). Took to photo below recently on a vist to the Midlands Arts Centre, we could all etcha-sketch at the same time, what fun!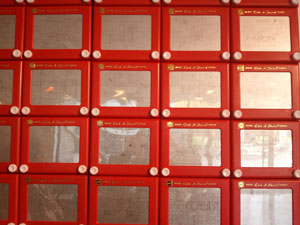 December 19th
This year we had Christmas cards made by hand, for charity, designed and made by kids, google eyed ones, glitter covered, we even had one from Prince Charles, but my favorite was the one below - from my friend Theary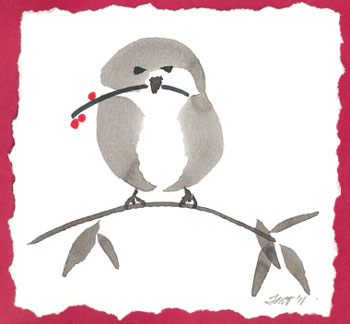 December 8th
My chickens Cagney and Lacey in a pot (not a cooking pot though!)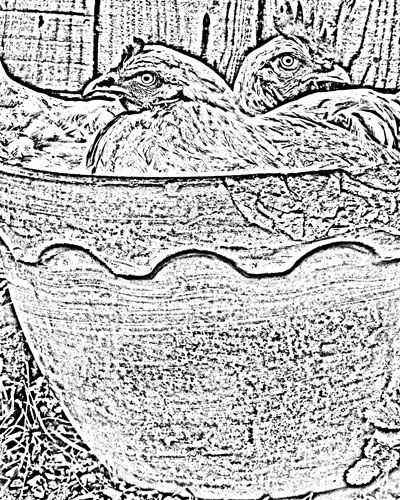 emmabennettcollage@email.com
---
archive
December 1st
My friend Theary, who I did the printing course printed this- love it!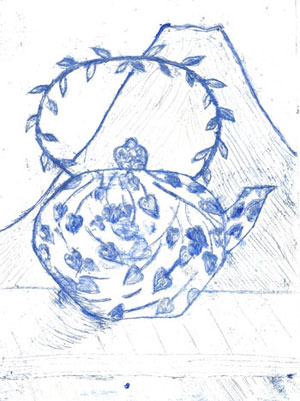 November 24th
Another mention of my work - this time on the Friends of the Earth Christmas gift list
http://www.foe.co.uk/living/articles/christmas_gifts_33361.html
November 19th
Printing course finished, not sure I am any good at it- black and white dogs below!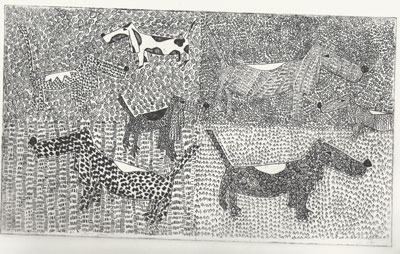 November 15th
Saw this gorgeous knitted plane on display at Duxford (the fantastic air museum) - I want one!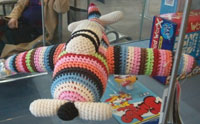 Chicken pictures selling fast!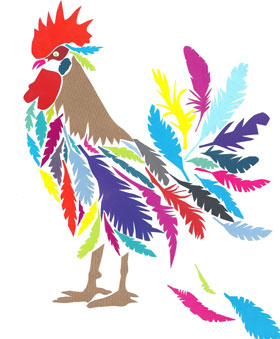 November 1st
Style article out- is great!
October 18th
Went to a posh sit down reception at the Tate Modern last night to celebrate the launch of the new Tacita Dean installation in the Turbine Hall. Sat on a table with lots of big wigs including Tessa Jowell. Craig has agreed he will teach her to cycle, that will be interesting!
Sold over 300 Christmas cards and it is only October - thanks to everyone who has bough some.
October 1st
Christmas cards designed and at the printers, sold another 4 original art pieces this week and am busy exploring lino printing on my foundation course.
September 18th
featured in the fantastic Earthmatters magazine produced by Friends of the Earth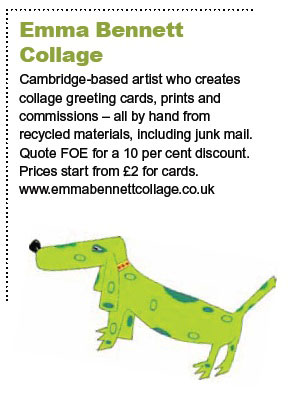 September 5th
busy summer entertaining the kids- but good fun. Had lots of orders and sold 2 original pieces in the past week, so that's good. Black Cat exhibition still up and getting some great feedback from it.
July 27th
all go this week, lots of orders, Earthmatters (see below) and the great UKhandmade going to include me in a feature in Feb '12 called 'The Road Less Travelled' - and the kids on 6 week school holiday!
July 23rd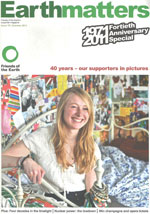 the wonderful Friends of the Earth are going to include my work in an article in their September Earthmatters magazine.
i had an order this week for 5 prints and an orginal art work for the same person- why can't I get those every day!
on Twitter now, still not really sure what it is all about
July 8th
i was in the Black Cat (where my exhibition is) this morning with my friend Lynn who is a writer and it was great to see people looking at my pictures and smiling. I heard one woman comment how colourful they are and another how lovely they look.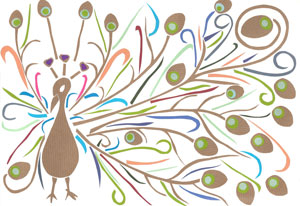 peacock picture finished this week
June 2011
put up an exhibition of 12 of my pictures at the Black Cat Cafe on Mill Road, which looks quite good I think.