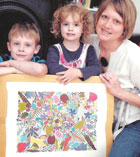 about emma bennett
Emma Bennett is a Cambridge-based artist with a passion for design, recycling, cutting, collage and creating beautiful products which make people smile. All of Emma's work is hand-cut or torn using only the high quality papers from magazines and flyers.
Working from a small studio with chickens Cagney and Lacey pecking on the window (and later in the day 2 children, Molly and William) all pictures are carefully researched and many designs turned into lovely gift products.
"we love the original leaf picture, amazing. Every time we look at it we see something new, a good investment in an artist sure to go places"
"love it, love it, love it, so amazing!"
"the picture is beautiful thanks, my sister is going to love it"
"your work is so unique- each bit cut by hand? amazing"
"my friend loved the baby card, so different, I need to order more!"
"you are a very talented Artist and as an Artist myself I don't say that often"
"I love this picture, will order straight away"
"thanks for the cards-they are great"